Keep Calm and Carry On…2020 is nearly over!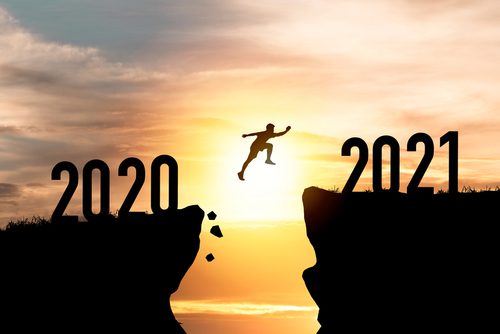 What a year 2020 has been.
For many I hear I can't wait for 2020 to end, and frankly who would blame them for thinking this?
I agree, 2020 has been the most unpredictable, most difficult and testing year for small businesses and for everyone personally.  But if we stop to look back, we should look back with some pride and some amazement at what many small businesses have achieved.
The word 'pivot' in my view is used too often, but 2020 has forced (and the key word is forced) every business to examine itself in minute detail, something that no business would do 'willingly'.  This has brought enormous amounts of innovation to get up to speed with the changing landscape forced on us by CV-19.  I also think most business owners now know their business way better than pre March 23rd.
Business Resilience
In my view, businesses have achieved more in 6 months than they would normally look to do in 6 years.  Even for those businesses which have been either forced to close due to lockdown restrictions (like pubs, restaurants, hairdressers etc) or those whose business model has been severely limited (like travel & international tourism) 2020 has forced these businesses to re-examine what they do.
This has meant an acceleration of changes in business models.
What looks like 'terminal' decline of the high street and rapid changes to physical retailing. The fact is that the number of retailers that were expanding their physical footprint before CV-19 was quite small.  The high street and physical shopping had been declining for years, I have heard some commentators say CV-19 will finish what Amazon started.  There were similar shifts when supermarkets began to open and decimate local high streets in the 70's & 80's.
More businesses than ever have moved to an online presence to complement their physical offering.
Many had the view that remote working was a 'way to not do as much work' by many employers. Now the reality of remote working is improvements in productivity and a new balance in work vs life with less time spent commuting for example.  This means leaders, manager have had to learn new skills, new ways to keep teams motivated and new ways to ensure communication remains open.
Mental health and wellbeing is now, in my view rightly, of utmost importance to businesses. With time, energy and resources being spent to ensure work is not only productive – but happier.
A real interrogation of each businesses cost base.
There have been more business start ups in the last months than in many years.
The list could go on and on, and there could equally be a list of 'pain points', I do not want to underplay the personal impacts that CV-19 has brought on to families which have suffered.
But business has always been about dealing with an uncertain future, usually this future does not happen to everyone at once….
So, 2021 is a month away, Brexit is imminent, a vaccine may or may not be available.  So, what is new for you to deal with?
I love the following quote:
If the pace of change is getting faster, then today is the slowest business will be ever
In my view 2021 should be another year of transformation for every business. Continuing to respond to the changing world brought on by CV-19, Brexit, etc etc.  To succeed it is critical to have a plan, one which is anchored on where you are now? and where do you want to be?  The path you choose to navigate in between these two points is the skill and hard work of running your business.
So, if you have some time in the next month to think about 2021, ask yourself a few simple questions:
What do I want from my business?
What's the problem I solve for my customers?
What are my customers pain points?
Who can help me achieve my goals?
What must be true for me to achieve my goals?
Onwards and upwards
Personally, I am looking forward to 2021. We will all need to be flexible, pacey, adaptable, helpful, and kind to succeed.  I am not expecting it to be easy, but I intend to have a positive mindset and enjoy the ride.
I do believe there is a genuine groundswell to shop and help local businesses ahead of what has been the normal approach of shopping with the big guns.  If we look to shop, work, and support local I think 2021 can be a great year.
Remember, "Any goal without a plan is just a wish." And as it is nearly Christmas I would "love all your wishes to come true," but I suspect the reality is much more anchored in having a firm plan, a grasp on your finances, a great team and a clear reason to win with your customers.