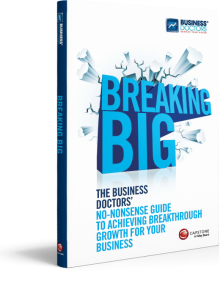 Breaking Big the Business Doctors' no-nonsense guide to achieving the breakthrough needed to grow your business…and break big!
If you are looking to grow your business, get more customers and increase your profits, it's worth taking the time to review how your business is performing now and get some expert advice on how to hit the big time! Breaking Big will show you how to quickly and clearly review where your business is right now and decide where it should be going. Then you can start taking the right steps straight away, achieve business growth and break big.
You will learn how to: Get clear about your business vision and its effectiveness, Maximise your business capabilities, Stand out from the crowd, Find and exploit your competitive edge, Focus your marketing on the right customers, Manage and support the best people for your business, and understand the big picture and future proof your business.
Motivation
Breaking Big is based on the concept of an "entrepreneurial bootcamp," it provides workouts to wake up small business owners and inspire them to kick their businesses into high gear
Vision
A unique opportunity for entrepreneurs and small business owners to get back to basics and take a good look at their core values and business vision
Guidance
Grounded in the authors' experience of helping hundreds of small business owners overcome real-life business issues, setback, and potential pitfalls
Win your own personal copy of Breaking Big!
We are giving away a copy of Breaking Big to 5 lucky winners to help you breakthrough and achieve business growth. Simply complete the form below to be in with a chance to win.
[gravityform id="3″ title="false" description="false" ajax="true"]